Royal Jelly Special Lift <Gel Cream type>60g
"RJ Special Lift" helps users go back in time by lifting sagging and wrinkled skin. It also leads to firm, elastic skin through the creation of "shape memory".

A rare "royal jelly oil" and a typical aging care ingredient "retinol" activate the fibroblasts that produce collagen, elastin and hyaluronic acid, and support the production of these aging care ingredients and from the foundation of the skin prepare and lead to strong firm skin.

Original material "Royal jelly oil" has an effect of promoting fibroblast proliferation, collagen and elastin production.

Representative aging care ingredient "Retinol" combination
Formulated "Retinol", is known as an ingredient to care for wrinkles, in the form of stabilized "hydrogenated retinol". It promotes the production of hyaluronic acid.
Also contains Chenopodium Quinoa Seed Extract
Because it contains a quinoa seed extract taken from the superfood quinoa, it has a high lifting effect by making a film on the skin and bringing the cells into close contact.
It can be noted that the reduction of wrinkles around the eyes can be checked visually after only 30 minutes to 1 hour.
You can expect a lifting effect in a short time !!

You should not miss!!
RJ Special Lift
In addition to royal jelly from Yamada Bee Farm, it contains the anti-aging ingredient royal jelly oil and retinol, it works to increase collagen and hyaluronic acid and allieviate wrinkles through the super food quinoa seed extract.
It is recommende for people who are concerned about sagging skin aroud their face, for example, double chin, hollows around the eyes, wrinkles near the mouth, laugh lines, dents in the cheeks and open pores.When looking at the ingredients, you may mistakenly think it has a thick texture. However, it is actually only slightly thicker than a milky lotion.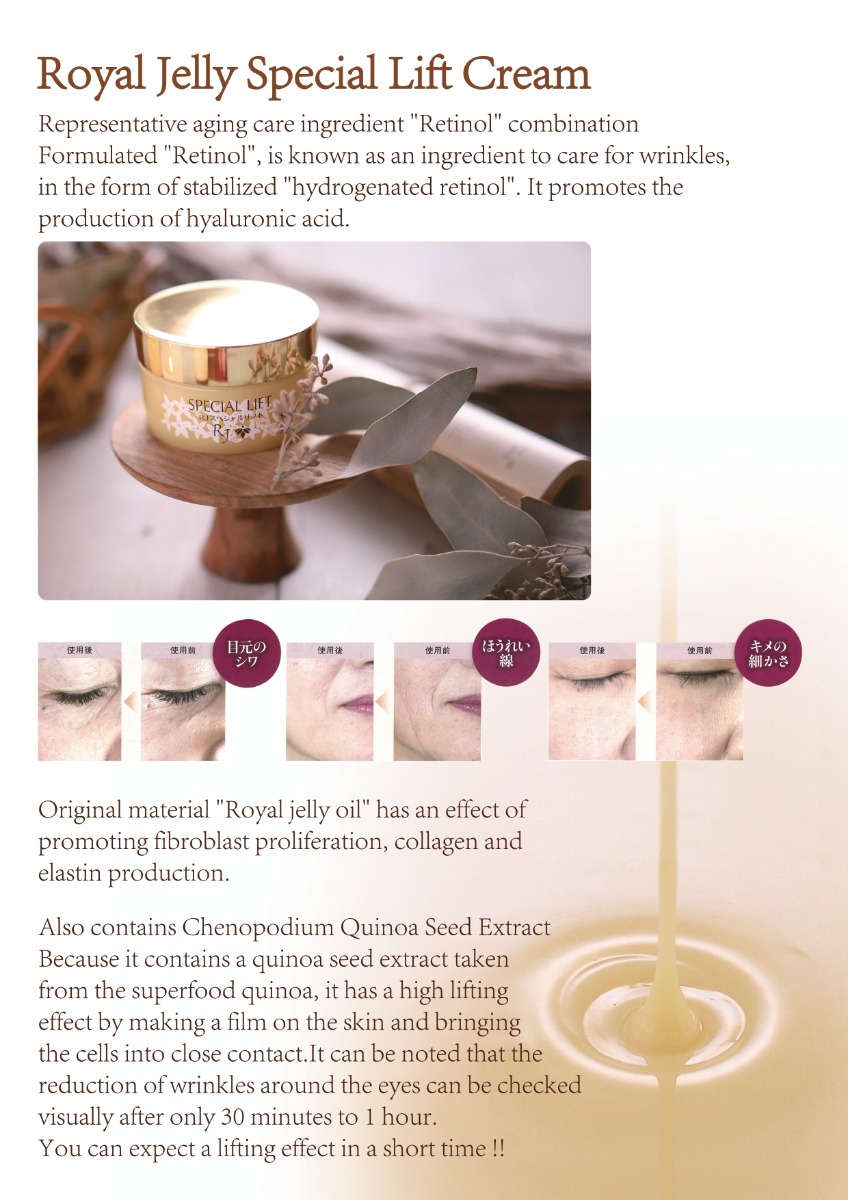 We found other products you might like!