June 20th, Father's day
Special Sales on items that are best recommended to male customers!

■Promotion period: from June 1st, 2021 to June 21st, 2021


■Mr. Propolis set
Good news for men who are concerned about their oily skin
or who feel like their skin is aging recently.
Mr. Propolis contains the power of Propolis that can protect
and repair your skin!

Naturally-derived moisturizing ingredients such as royal jelly can
moisturize your skin and make you feel fresh.
For those who are not prepared for dry skin and anti-aging,
this is the right product for you.





■Maca-Bee Larvae King 150capsules
This product contains Maca, Bee Larvae, Tongkat Ali extract,
and Cordyceps sinensis powder that support the vitality of life
and the confidence of men!!!
We support your active and energetic daily life!





■RJ Land & Sea Body Gel 150ml
With the blessings from the sea and land: seaweed extract and soymilk
fermentation liquid, this product is rich in natural moisturizing ingredient,
royal jelly extract, and many other nutrients essential for beauty treatment.
When applying this product on your skin, the gel will transform into the form
of lotion. This Melty formula is a mark of future body care.





Royal Jelly King Granular
Royal Jelly is the special diet that only the Queen Bee can consume.
Thanks to this very special diet, the size of Queen Bee is usually two
to three times as large as the normal bees and has a lifespan 30 to 40
times as long as the normal bees.
Since we want to deliver that power to your body, we have increased the
absorption rate of the nutrients and made granules that are easy to ingest.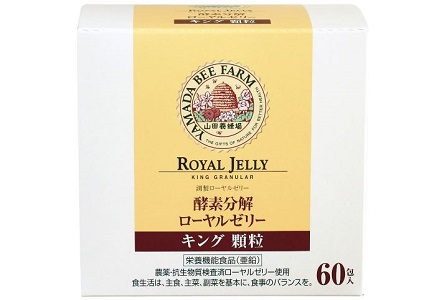 ■Propolis Mild (Propolis Mild )
Propolis is a Greek word meaning "a castle wall that prevents the invasion of enemies".
In that sense, it is a natural antibacterial substance.
In this product, we add pineapple juice for those who are sensitive about the unique
taste that Propolis brings!
Furthermore, since the product is chewable, people who have troubles taking
tablets can easily take it as well!





■Promotion period: from June 1st, 2021 to June 21st, 2021
Don't miss it!!