Happy Mother's Day!

Do you want to choose a special gift for Mom?
Or buy some gifts for yourself who have become a mother?
We would like to offer you a special discount.
【Period:From 5 April (AM10:00 )to 10 May.(JAPAN TIME)】

☆Finding products to meet your needs!


① 100% royal jelly only!
Recommended for people with poor sleep or menopausal symptoms.
100% Royal Jelly(in tablet form) x3 ¥10,350⇒special price¥9,800





② Makes your body to take in amino acids easier by a
unique patented technology (enzymatic treatment).
Recommended for people who feel that their physical strength
and skin moisture has decreased recently.
Royal Jelly King 〈in a bag〉 x3 ¥23,130⇒special price¥21,600




③ Makes your body to take in amino acids
easier by a unique patented technology
(enzymatic treatment).
Recommended for people who don't like swallowing.
Yogurt tastes, delicious and healthy.
Royal Jelly King Granular x3 ¥23,460⇒special price¥21,700





④ Recommended for people who have a
weakened immune system and get cold easily
Propolis300〈in a bag〉¥25,920⇒special price¥23,700





⑤ Recommended for people who feel skin deterioration
and skin barrier damage recently – RJ skin care set
Using RJ skin care to achieve anti-aging and whitening.
RJ skin care (Lotion & Essence & Cream) ¥17,490⇒special price¥16,500





⑥ Recommended for people who care about pores
dry · small fine lines · lack of elasticity · lack of luster.
Manuka Honey skin care Simple Routine Set
(Cleansing Balm & Essence Gel) ¥8,855⇒special price¥8,350




⑦ After half a century of research,
Yamada Bee Farm company's new skin care series was born.
— Manuka honey skin care.
We strongly recommend this series to busy people who want healthy skin.
Manuka honey skin care Luxury Set ¥16,790⇒special price¥15,800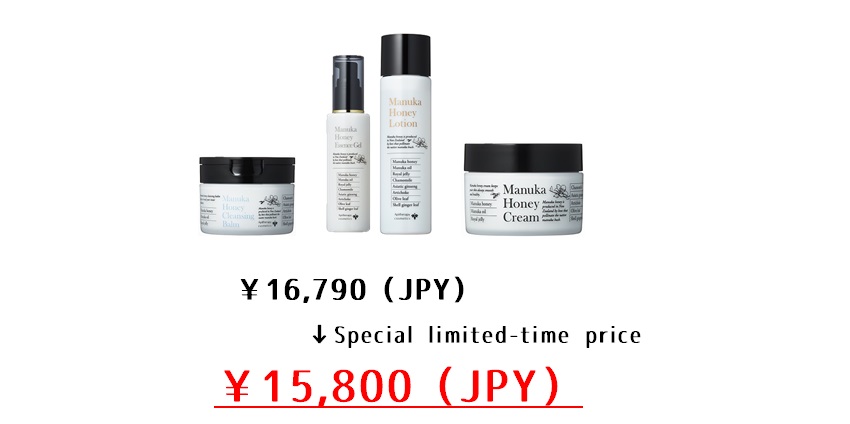 In addition to the above special price, if you use a 5% discount coupon
(* other than honey food can be used)...
The maximum discount is 14%!




Due to the influence of the COVID-19,
the transportation time will be extended.
It is recommended that those who want to get the products
earlier order as soon as possible!
Don't miss the chance!